See what our customers are saying about Cloud 9 Classics!!!
1957 356 Speedster Replica
Good Morning Roy!
Got the 356 here safe and at home. Wife Sandy  loves it!  Up at 7:00 this morning & found her sitting in it all smiles!  "Happy wife, Happy Life!"
Thanks for the assistance and smooth transaction of the purchase.  I will stay in touch.
Regards,
Bob & Sandy – AL
1957 356 Speedster Replica
Hey Roy!
I just wanted to write and say "THANKS" for getting the Speedster to us yesterday.  Honestly, that was going to be the ONLY decent day available as today is a complete wash-out … just a horrible day with lots of rain. So again, thanks so much for coordinating the delivery!  Thanks too, for getting our car ordered and delivered.  I think it'll be fun once good weather comes again.  Should be fun scooting along the ME/NH Seacoast in spring/summer.  We took it around the "block" a couple of times yesterday, and it immediately elicited quite a few waves and thumbs up!  I just wanted to send you my own thank-you, in addition to Butch's.  I've been a "car girl" since my daddy used to take me to new car lots when I was a little girl waaaaaaaaaay back in the 1960's.  You guys take care!
Carolyn – ME
1965 VW Beetle
Hey Roy!
She's here and more beautiful in person! Runs FANTASTIC!
Matt – NV
1957 Porsche Speedster Replica
Hey Roy!
We picked up our car today and Michelle LOVES it!
Wanted to thank you so much for all your help and work on getting Michelle's dream car together. She is SO HAPPY and it's been such a long term dream of hers to get this car!
Speak soon!!
Mike – California
1957 Porsche Speedster Replica
Roy,
Again, thank you so much – I took her for a spin this morning and wow what a fun experience! Many years of enjoyment ahead of us. Appreciate you getting me into one of these great cars after the misery the other company put me through. Thank you again!
Jeff – Florida
1987 Mercedes 560 SL Convertible
Hi Roy:
Just wanted you to know that I am so happy with the car! I ventured out to my first Coffee & Cars locally and had to park it next to the high dollar vehicles (see attached picture). It just fits right in!
Just a heads up … I have given your name to a few friends and you may get some business from folks in the area! Not a bad thing, I hope.
All the best and talk soon.
Mark – Maryland
1965 Ford Mustang Fastback
Hi Roy … here is a pic of my car here in the UK. It has a real original feel to it and it's the first car that has arrived from the US still running well and firing on all 8! I have 15 other classics and it fits in just nicely with them. Like I said before it's the only car that I've shipped over that I can jump straight in and enjoy, and I've thoroughly enjoyed every moment of it (what a shame it's almost winter!). Overall Roy I'm pleased as punch with it! What a nice change to finally get a car delivered from across the pond with zero disasters and in the shape it was described as being in!
Bob – UK
1986 Mercedes 560 SL
Hi Roy, I just received my gorgeous 1986 Mercedes 560SL from Cloud 9 Classics.  I feel like I just took delivery from the Mercedes dealer in '86.  The car is that nice!  My thanks to Roy and Robin Podolin for the honest description and lightning fast delivery with no hassles.  It was a leap of faith buying a car sight unseen, but I couldn't be more pleased.  Thanks again!
Ed – Cincinnati
1957 Porsche Speedster Replica
Hey Roy, just a quick note of thanks for getting the Speedster up here to Maine. I am so happy with the car, and I appreciate everything you have done to make it happen. From the initial order last fall, to delivery a couple of weeks ago, you couldn't have done a better job keeping me informed of the progress of the build. The process from initial order to delivery was professionally handled in every sense of the word, and we couldn't be happier – Vintage Motorcars of California built a spectacular car, and you made the buying experience as seamless and stress-free as possible. You have another extremely satisfied Cloud 9 Classics customer for life – Thanks again!
Jim – Maine
1965 Shelby Cobra Replica
When I first saw my dream car, a Cobra replica on the web at Cloud 9 Classics, there were over 80 pictures of it.  It was beautiful! I contacted Roy Podolin by phone that day, which was a Friday, to inquire about the car.  He was happy to answer all my questions.  I asked if I flew down the next day on a Saturday, could I see it and check it out?  Even though it was a Saturday, which is Roy's day off, he advised he would come to let me see the vehicle and road test.  Roy was very knowledgeable about the car.  It was even more beautiful in person than in the pictures.  I made the purchase of the vehicle that day.  Roy even arranged to have the vehicle shipped to my front door by a very professional transportation company. I would highly recommend Cloud 9 Classics to anyone that is looking for their dream car.  Thanks Roy so much! I also made a new friend.
Bob – Maryland
1957  Porsche 356 Speedster Replica
I wanted to thank you for making my car buying experience trouble and concern free. Getting the opportunity to see three great examples of Porsche 365 Speedster replicas up close, in your shop early February made my decision an easy one. Also, being 6'3" your suggestion to have the steering column extended and going with the wood steering wheel for my build has provided plenty of room for me to comfortably drive and enjoy the ride.
I really appreciated the ongoing updates and photos during the car building process. My wife would say "I guess you got another email from Roy" when she would find me dancing around the kitchen. You should have seen my face when the car was backed out of the trailer when delivered. Yes, again, I may have been dancing.
Driving this ivory beauty through the twists and turns of the Blue Ridge Mountains in NC has brought my wife and I much joy. The car handles like a dream and is great fun to drive. I was also surprised how much attention this car gets. I have lost track of how many "thumbs up" signs received. All I can say is that you have made my retirement dream come true. Many, many thanks.
Best Regards,
Jim – North Carolina
1946 Chevrolet 3100 Pickup Truck
We had a great business arrangement relationship and the truck is beautiful.   I would certainly have no issues dealing with C9C again.  You were entirely honest and totally forth right in your representation of the truck and it's condition.
If anything, I truly was surprised at how beautiful the truck was when it came off the trailer…absolutely!   The green was a much darker rich ivy green than what came out on Hemmings!  The red trim on the wheels is a perfect compliment.  Still … one does take a really big chance, deep breath and huge leap of faith buying sight unseen.  All so risky in a business with many horror stories no doubt out there, which is not difficult to understand being the nature of subjective expectations.
Howard – New Jersey
1969 Dodge Charger
I have always wanted a 1969 Charger. I came across one on a website. I reached out to Roy at Cloud 9 and he was very honest and friendly. I wound up driving 4 hours to see the car. I was struck by how honest Roy was. I loved the car and it wasn't oversold on his description. Roy worked with me closely and was flexible in making the purchase of my dream car come true! I highly recommend Cloud 9 Classics!
Jeff – South Carolina
1957 Porsche Speedster Replica Coupe
Dear Roy and Robin:
I want to thank you one more time for your professionalism in facilitating the purchase of the Porsche 356 Tribute.  There is always some concern about buying a vehicle far away, without the opportunity to see it and to see the Dealership, but from the very beginning after talking to you, I knew I was in competent and honest hands.  I asked you to see if the shift knob could be changed and you went out of your way to locate a nice shift knob with the Porsche emblem at no extra charge, again showing your good will and desire to go the extra mile to satisfy the customer.  The detailed description of the vehicle, matched exactly the real thing and the car arrived in a timely manner as you have announced and it coincides with the initiation of my retirement, for which I am planning to get the most fun out of it!  I would put both of you and Cloud 9 Classics in the "Dean's List" and give you a 10/10 Grade!!!
I highly recommend Cloud 9 Classics to anyone planning to buy a classic car from a reliable source.  Keep up the good work.
My Best,
Juan – Texas
1957 Porsche Speedster Replica
Dear Roy,
Couldn't let time pass without telling you what a pleasure it was to visit your fabulous automobile center. It's hard to imagine how you acquire such a fine selection of properly finished autos and trucks, but it sure made my search for the perfect car easy.
I arrived at Cloud 9 to see a Vintage Speedster, Inc. built 1957 Porsche Speedster that you had advertised with all information one would need to get off their butt and come see if you were correct in your detailed description. Well, you understated the quality of that vehicle! I had to own it when I had finished going over the car and you made it happen. Having bought fifty vehicles in my sixty-three years, I have never not had some moment of disappointment while trying to buy what I wanted. Not with you, it was truly a pleasure.
Having owned the car a few days now, I'm even more pleased to have done business with you. I wish you the best as you go about doing what obviously you enjoy, placing the right vehicle with the right person. May I simply say, Thank You.
Regards,
Brian – Georgia
1957 Porsche Speedster Replicas
Hi Roy,
Just a big thank you for the help and shipping advice you gave when we purchased the two vintage speedsters from you.  The cars arrived in the U.K. this week and are just beautiful.  I actually took a deposit on one of them before we even cleaned it lol.  Please give my email to any buyer who is concerned about buying from you (especially overseas).  We will be more than happy to share our great experience with them.  We are looking forward to getting the next speedster from you in a few weeks.
Thanks again.
Paul – UK
1968  Mustang Fastback
Hi Roy,
Thanks again for the 68 Mustang fastback. After being disappointed 5 years ago buying a 1970 Dodge Charger from another U.S car dealer, it wasn't easy to trust someone again with a large sum of money, who is four thousand miles away, but I am glad I did with you. The car is better than I hoped for, like new. You were totally honest with your description and even changed the steering wheel for a better looking one before it left for the U.K.
When I've saved up enough money for a 68 Camaro I'll definitely be coming to you.
Many thanks again for all your help.
Robert – UK
1974 Chevrolet Nova
Roy,
We wanted to give a huge Thank you for a seamless transaction and an even more seamless car! Absolutely love the 1974 Nova and she rides like a dream! We couldn't be any more pleased with your service, your friendliness and your professionalism. The Nova is exactly as you represented it online and it was our pleasure to be able to meet you and to enjoy this classic as you would.
Thank you again Roy and Cloud 9 Classics. We are Carolina cruisin'!
Rob & Lisa – South Carolina
1985 Custom El Camino
Roy,
I just wanted to send you a email to thank you for the outstanding service you provided. I shopped the numerous consignment locations here in the Atlanta area and was skeptical to consign my vehicle with anyone. As I visited  these locations, they appeared to me as a customer, to be factory mills for people to display their vehicles, in the hopes that someone may walk in and like their car enough to make a purchase. They in no way offered  the personalized service that you and Cloud 9 delivered. You were straightforward, clear on the process, and transparent in every respect. You personalized the service that you offer, and the end result was that you sold the vehicle in two weeks, and all I had to do was pick up a check!
Thanks again, I look forward to working together in the future.
Pete – Georgia
1985 Custom El Camino
My name is Linda Quinn and my husband Ralph recently had the pleasure of purchasing an awesome high end build of a 1985 Custom El Camino. We had the pleasure of dealing with Roy Podolin of Cloud 9 Classics.  He was very professional and extremely knowledgeable about the custom vehicle we purchased. He had everything under control and was the middle man with the owner and us. We had never purchased a car that we had not seen in person, however Roy had some of the most well documented pictures and information we have seen so we felt completely safe purchasing this EL Camino.  Roy is also a Transport broker and within 1 day of our completed purchase he had a professional Transporter with an enclosed car carrier and our new baby arrived early the next day. I highly recommend Cloud 9 Classics and Roy Podolin if you want to purchase a classic vehicle or should you have a classic vehicle you want to sell Roy and Cloud 9 Classics is the place we highly recommend.
A very satisfied purchaser,
Linda & Ralph – Virginia
1989 Mercedes Benz 560 SL
It was a pleasure working with you and your team at Cloud 9 Classics! You did a great job marketing my car and sold it quickly for the price we agreed upon. This was a hassle free transaction for me and I appreciated your professionalism throughout the process. Please let me know if you need to use me as a reference for your company as I am a satisfied customer.  Give me a few months and I will check In to see if you can tempt me with another vehicle.

Thanks again,
Eric – Georgia, Consignment Sale
1964 Pontiac Bonneville
Thanks for making it so easy for Mary and I to take a walk down memory lane by putting us in our '64 Bonneville convertible.  I found your candor and willingness to truthfully describe the car during our phone calls reassuring and made the decision making process so easy.  Bonnie was exactly as you described her and we are delighted with her!  I also want to thank you for going the extra mile in setting up the tri-power, putting in a new battery  and taking care of so many other details without being asked.  Robin was also terrific to work with and handled all the paperwork flawlessly.   I would recommend you to anyone looking for a classic car.  Thanks again for making our search a positive and successful one.
Mike – South Carolina
1950 Chevrolet 3100
I can't say enough about Cloud 9 Classic, from the first phone call to going up to see the truck, Roy was very helpful with all my questions and concerns.  Even after purchasing my 1950 Chevy 3100 his help continued till delivery.  I would certainly tell anyone looking to buy a classic auto or truck to call or see Roy at Cloud 9 Classics.
All the best,
Randy – Georgia
1970 Ford Bronco
Hi Roy,
Just wanted to share a couple of pics of the Bronco you sold me from Australia.  A year on and I still absolutely love it!  To update you, I did a little bit to it, put electric power steering on, electric distributor and had to modify the roll frame for Australia compliance.  She is running beautifully and I use it almost everyday.
Anyway, just wanted to say thanks for finding me a great car!
All the best,
Craig – Byron Bay, Australia
1957 Porsche Speedster Replica
Roy,
I  just wanted to thank you on the Porsche vintage speedster that I purchased at Cloud 9 Classics.  This is the first vehicle that I have purchased through emails and phone conversation without seeing it or driving it in person.  I received delivery on the speedster in NJ in an enclosed transporter and after going over car and driving it, it is everything you said it was!  Thanks for answering all my questions and making all the paper work so easy.
Anthony – New Jersey
1957 Chevrolet Bel Air
Roy,
Just a brief note of thanks for how you handled the sale of my car.  First, I can't believe how quickly you were able to accomplish the sale.  I was very impressed with the marketing materials and the presentation you prepared to sell the car.  That preparation and planning obviously paid extreme benefits in selling the car as quickly as you did.  The overall experience including the suggestions regarding some small fixes on the car demonstrated the high degree of professionalism and know how you bring to your profession.
Thanks again for the awesome job.
Barry – Consignment Client, Georgia
1957 Beck Porsche Speedster 356 Replica
We received the Beck 356 Porsche Speedster tonight around 5:30. Everything was just as you described. It is beautiful. I am pleased by how easy our transaction has been.
Renee – Ohio
1957 Porsche Speedster Replica
We found our Speedster on line and became very interested after watching a video of Roy explaining the car, including starting it up so we could hear the engine. We called and Roy answered, offering any information that we still needed. We purchased the car on line and Roy had it shipped to us in Lake Tahoe within 2 weeks in perfect condition. Everything was as promised, we love the car and the total experience. We would highly recommend Cloud 9 Classics to any buyer!
Glo – Nevada
2002 Pontiac Trans Am
Roy,
I want to tell you how much I appreciate doing business with an honest, straightforward and patient person. You were Great at walking me through everything step by step and believe me, I needed that! I have Never purchased a car this way before (sight unseen) and I was very nervous about it. I checked out your website, testimonials and Carfax and they all added up. The videos, pictures and descriptions were Exactly as you described them. Thank you again for allowing me to do business with you.  I would Highly Recommend you to anyone.
All my best,
Grant – Minnesota
1966 Mustang Convertible
Roy,
I have to admit, it was somewhat scary to send someone I didn't know so much money for a car I hadn't seen. But Roy was upfront from the start and he didn't let me down. The car (and everything else) came as promised and it was as beautiful as described. Now I know how the stars must feel when they get more attention than they bargain for. Everywhere I go someone wants to ask about the car or look at it. Even at my local Mustang club! Takes me longer to get where I'm going!
Very happy.  Thank you!
Gabriel – West Hills, CA
1977 Ford Bronco
1937 Ford 5 Window Coupe
Roy,
I just wanted to send a note of thanks. The 37 Ford is everything and more as you described it. The pictures just didn't do it justice. The paint and body is really beyond your description. I am really pleased with my purchase as you know sight unseen. The transaction was very smooth, from my first phone call, the paperwork and then delivery. You run a excellent operation and I would be proud to recommend Cloud 9 to anyone.
Thanks again,
Ren – Wilkes Barre, PA
1985 Chevrolet Monte Carlo
Roy,
I just want to say THANK YOU!  Not only were you 100% honest about the 85 Monte Carlo, you held true to your word. As you know, I was very hesitant buying a car online and not seeing it up close and personal. You assured me it going to be an easy process and it was. You did an AWESOME job staying in contact with me throughout the whole process. I will recommend you and Cloud 9 Classics to anybody and everybody! You, your wife, and Cloud 9 are very much top notch and should be proud of the way you conduct business. I am very pleased with everything you have done!  The car is gorgeous and I'm extremely happy! I made a very good choice in doing business with you!
If I'm ever in the market for another classic, I'm most definitely going to call you!
Again, thank you very much! 
Brian – Des Moines, IA
1957 Porsche Speedster Replica
Roy,
Just wanted to drop you a note to say thanks. Your description of the Porsche Speedster by Vintage was spot on! Negotiating price was "no drama" and very fair. Your quickness in handling the sale and enclosed transportation was textbook. No surprises coming out of the truck and delivery on time.
My first criteria is trust. You passed with flying colors! Also, having your wife as an active team member expedited any required paperwork and kept everything smooth. I look forward to seeing you grow so I can buy another classic from your location.
Larry – Sarasota, FL
2006 Dodge Magnum
Roy and Robin
I love the car!!!  As a point of note, the transport driver you provided was truly professional and I am grateful that a person of his character was given the job. It has truly been a pleasure working with you.  I've never had a car purchase go so smoothly.
Thomas – Austin, TX
1956 Chevy 3100 Pickup
Roy and Kevin
I just wanted to send this huge THANK YOU just in case I didn't say it Wednesday while I was there. I can't say enough about how pleasant the buying experience was with Cloud 9 Classics. The truck didn't disappoint and neither did you guys. And I appreciate you guys indulging me and letting me come by and see behind the curtains, so to speak. I had a great visit and I am very pleased with the pickup.  So when does it arrive?  (just kidding) Thanks again.
Harold – Rancho Cordova, CA
1949  Chevrolet 3100 Pick Up
I just wanted to thank you for making the process of finding a high quality classic truck so easy. You guys were right on with everything you said about my truck! It is perfect! You told me about the possible imperfections that were necessary for a buyer to know about before purchasing. Even though they are only minor.
I thought I was taking a risk buying a car sight unseen from the internet but with cloud 9, there is no risk. I mean that. I could not be happier with my truck! Thanks again.
Ryan Lucas – Long Island, NY
1971 Mustang Mach 1
I truly apologize for not writing this sooner.  I just wanted to let you know that I truly appreciate you and Cloud 9 Classics for paring me with that 1971 429CJ Mustang Mach 1.  In my case this was a consignment sale where Cloud 9 Classics acted as the middle man during the negotiations.  However, it was left to you to present the car both on EBay and on your website.This is where Cloud 9 Classics truly excels way above all other companies in their "presentation" of the vehicle.  It is a mixture of history, facts about the car, and photos all mixed together in a very organized presentation.  The photo documentation simply shows everything a buyer would want to see.  I also have no doubt that if a buyer did want to see something else you would handle that.  I was very comfortable buying this car without physically seeing the car.  You put me in touch with a second person, Lawrence Booth, who had prepared the car for sale.  I found that Lawrence was also a professional and his expertise in restoring and working on classic Mustangs was very helpful in my decision to buy this car.
I want to say this to anyone who buys a classic car or for that matter a "used" car.  Do not expect it to be perfect in every way.  It won't be!  In my case I was buying a restored 44 year old car.  I knew there would be little things that I would fix.  There is always something to mess with.  That is also part of the fun in owning these classic cars.  Hunting, researching, acquiring and then fixing the little stuff to make the car exactly like you want it.
Now for a little bragging.  For certain, I am glad that I did not let this car get away from me.  I have taken it to six shows so far and have won trophy's in five of the six.  The last show was judged by Alzheimer's patients and families and without going into a lot of detail, due to their age they remembered vehicles from the 40's and 50's in their lives and not a muscle car from the 70's.  I was not disappointed as I truly loved talking to all of them about cars and life in general.
One last thing you need to know.  All my life I have focused on my job which I love dearly.  I have never had a hobby and always planned to buy a muscle car when I retired.  Things did not work out like that and I bought the muscle car first.  This changed my life!  I have decided to retire in one year which will be in April of 2015.  I will have worked for 40 years at that point.  If I had not bought the car I would probably still keep working.  The car made me realize that there is more to life than work.  I need to just enjoy life and enjoy showing my car.  I could go on with more stories but I won't.  I would like to meet you in person one day Roy, just to shake your hand and tell you thank you.  You have my permission to use this email as a testimonial for Cloud 9 Classics.  Just leave off addresses and phone numbers please.
Mike – Houston, TX
1975 Ford Bronco
Kevin/Roy
Thank you very much for the Ford Bronco buying experience. Once I received the Bronco I took it right away to a mechanic that specializes on early Bronco, and he said it was one of the nicer once he has seen. This was a huge relief because I was so apprehensive buying a car online. I will definitely recommend Cloud 9 Classics.
Sincerely,
Robbie – Pasadena, CA
1923 C-cab Replica Hot Rod
Another Happy Customer!!!
Rex – Danville, AR
1967 Mustang Convertible
Hello Roy and Kevin,
My name is Stéphane Généraux and I live in France, I'm a friend of Nicolas Van Moffaert.
I am the new owner of the gorgeous 1967 Mustang convertible, it is really a very beautiful car and it runs great.
I'll attached 3 photos of a meeting in my village and you can see the Convertible,  my 1967 Hardtop and my 1980 Ford Capri.
You know the ford capri the USA…?
Thanks and have a good day.
Stephanie – France
2005 Chevrolet SSR
After the first two SSRs did not quite work for us, Roy quickly found us this silver one with really low mileage (5300) and in absolutely pristine condition. We are beyond happy with our new toy and extremely satisifed with the professionalism, respect for our opinions, flexibility for scheduling pickup, and friendliness of the Cloud 9 Classics staff. There was never any pressure whatsoever to purchase and the entire transaction was stress free, except waiting to pick up our new toy to arrive from New York. It was like waiting for Santa to arrive. The SSR was exactly as described. We definitely would recommend Cloud 9 Classics to anyone needing assistance in finding their dream hot rod or classic vehicle. Five Stars
June and Chuck – Augusta, GA
2005 Chevrolet SSR
Just a note to thank you for the great experience in dealing with you on the purchase of my new vehicle.  Your description of the car was quite exact. I wouldn't hesitate to recommend Cloud 9 Classics to anyone who is looking for a truly professional organization when purchasing a classic car.  Thanks again.
TOM – McKees Rock, PA
1934 Ford Hotrod
Here we are at the Herndon Classic car show. The car won Sponsors Choice and a top twenty.
Robert – Middleburg, VA
2013 Dodge Charger R/T
Hi Roy,
hope you are well.  I am very fine at the moment.  Its summer time here in Germany and now we have also over 30° mostly 🙂
I promised you, that I will send you pictures from the Charger, when he is ready in Germany.
Now I will keep my promise.  Can you see the different? Now I have dark Windows, Black Rooftop, and a "Charger" Label on it…… 🙂 It looks so beautiful.  I am so happy about my "Baby".
Thank you again for everything.  I hope that I may contact you again if I need a car.
We wish you all the best and take care of you.  Many greetings from Germany
Marco – Germany
2010 Dodge Challenger SRT8
Roy,I wish to thank you and Kevin on the way Cloud 9 Classics operates it's business.
From the start you handled yourself in an refreshingly honest straight forward manner.
Business and personal integrity is hard to find these days. If I need another Car I doubt
whether I will look around rather I will just call Cloud 9 to find it for me
I love my Hemi Challenger from Cloud 9 Classics
Again Thanks
Thomas p Dolsky, Kansas
1957 Porsche Speedster Replica
Thanks for all your good work!  And ahead of time. I'll be leaving positive feedback.Tom – Los Osos, CA
1966 Ford Mustang Convertible
Dear Roy and Kevin,
This is a moment I would like to say thank you for all you've done in the past . I'm giddy with pleasure that  a dream becomes reality. The '65 Mustang has  taking a long journey and now the stallion is in it's barn…..warm, cleanly and comfortable.
I'm a proud owner of a legend now and am sure- we'll have a lot of fun, joy and happiness in the future.
Pony should acclimatise fast and we'll never overstrain "him".
It was a pleasure for me to have a good common business together. Sometimes it was not easy – trust one to each other. But you know your business very well and every step was the right one.
Thank you very much and be aware that I'll recommend  Cloud Nine Classics  as well as TFT Auto Transport all to time to everyone.
Thanks a lot , all the best and best regrads – Fred from Germany alias Kalle.    GREAT !!!!
1966 Ford Mustang Fastback
"Looked forward to adding this beautiful fastback to my collection of Mustangs.  The car was exactly as described on the Ad"
Nelson – Braselton, GA
1965 Ford Mustang Fastback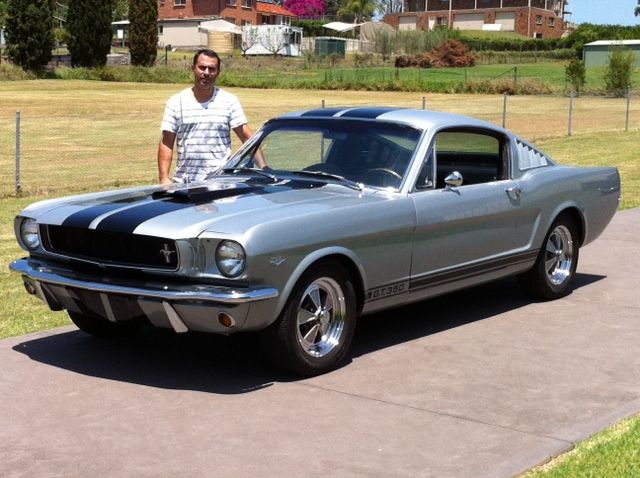 Hello Roy
Just letting you guys know the car arrived safely and in tip top shape, will recommend you guys to all.
Thanks again for a hassle free transaction and the wait was worth it.
Ray – Australia
1970 Ford Mustang Fastback Mach 1
Roy and Kevin,
I just wanted to take a moment to let you know how much I appreciated your efforts in selling my 1970 428 Mustang Cobra Jet Mach 1! As you know, I truly enjoy finding great cars and then restoring them back to their former glory. That being said, my time is limited regarding selling these vehicles, so I had decided to go the route of letting a classic car dealer sell my cars.
I had given several cars to other classic car dealers, where I have literally written the ads, recommended next steps and become deeply involved in the selling process. I had become dissappointed in other dealers, as they did not show any interest in doing their job, which is to market, communicate and sell my car in a timely manner. Additionally, some of these folks were not too professional.
You had been handling my shipping needs on these classic cars for several years, but for some reason I had not thought of you as a seller of classic cars. After some discussion, I decided to give you my Mach 1 as a test.
That was the best test I ever had!  I was absolutely blown away with your attention to detail when writing the ad, your honesty and integrity in representing the car properly and including all the information needed to put together a complete program that benefits both buyer and seller. The pictures and write up were exceptional and even better, I did not have to do all the work of writing an ad, handling the calls and dealing with the potential buyers.
You both handled this transaction professionally and I would highly recommend you to any individual that is looking to buy or sell their classic or daily driver. You kept the car in excellent condition (covered in your facility) and screened potential buyers before calling me on offers.
Feel free to have any potential buyers call me to discuss your program. I have been pleasantly surprised, as I am typically jaded when it comes to car dealers. You both have changed my perception (which is hard to do after 35 years of restoring cars)!!!!
Thank you again!
David Dell – Suwanee, GA 30024
2007 Chevrolet Corvette Convertible 
"You guys were great to deal with & made it enjoyable to purchase this vette"Marvin & Patty  – Omaha, NE
1967  Ford Mustang Fastback
Jean and Gerald – Paducah, KY
1978 Pontiac Trans am
"My wife is going to love driving this to the next car show"
Nial – Elizabethtown, NC
These Pictures were sent to us 3 weeks after:
Hey Roy,
It's Nial. I bought 78 Trans Am from you a month or so ago.  I've attached a few pics of it at recent car shows we've been to. Been to 3 shows, won 3 trophies, 1 being Best GM, so my wife is very happy with it.  The silver camaro next to it is my baby.
I'm pretty interested in that 73 firebird you have listed on Ebay.  The consignment dealer just sold my El Camino for me, so I'm looking to pick up another car soon. What are you looking to get for the Firebird?
Hope all is well with you guys!
Nial
1973 Ford Mustang Convertible 
"A good value and great to deal with you"Pat Budny – Montgomery, AL

1966 Triple Black Ford Mustang Convertible
"Bought a beautiful '66 Mustang Convertible sight unseen and the car arrived exactly as described. Everything went smoothly and I could not be happier with the long distance experience of purchasing this Classic Mustang from Roy and Kevin at Cloud 9 Classics. I would highly recommend them to anyone considering a classic car purchase."
Rich – Boston, MA
1968 Pontiac GTO Convertible
" Car is beautiful and as described.  Painless transaction. Friendly Sellers." – Purchased on E-bay sight unseen.
Mike – Smyrna, TN
1999 Panoz Roadster AIV
"Kevin and Roy at Cloud 9 Classics were great to work with.  I was fortunate to live very close to their business but after dealing with them and seeing the car in person I would have been just as pleased if I had bought the car sight unseen as it was exactly as they described and I couldn't be happier.  I would highly recommend Cloud 9 Classics to anyone looking to buy a quality Classic or Specialty car like the Panoz Roadster I just bought."
Mike – Cumming, GA
2009 Dodge Challenger SRT8
Art flew in from Riverton, Wyoming to pick up his beautiful Challenger SRT8 and loved it!
1968 Pontiac Firebird
Proud new owners of a Cloud 9 Classics Pontiac Firebird! "We love the car and having the space for our new 8 month old boy will be a lot of fun."
Renee and Dustin – Loganville, GA
1968 Chevrolet Camaro
Here are a couple photos of the fantastic car you sent me to Australia.  It is such a pleasure to drive.  My wife thought it would be appropriate to send you a photo of her and the car and also her daliy driver next to the Camaro.  It is a ford fpv f6 500hp 405rwkw of power out of an in line 4.0L turbo charged 6.
We will keep in contact as I am looking at bringing over a few more cars.
Kindest Regards,
Nick Grammenos
Adelaide, Australia
1975 Mercedes Benz 240D
Hey guys,
The engine blew up this weekend!!!  I want my money back!!  Ha, Ha, just kidding.  The car is fantastic, I love it, the wife loves it and we are very happy—the condition is almost unbelievable!  Thanks again and good luck to you and your business.  If you ever come across a '60's 200 series fintail, I am your man!
Take care,
Chris, Pensacola FL
1966 Ford Mustang Fastback
Thank you so much Kevin for sending the photos.  Now we're starting to get really excited.  As soon as we know what the shipping timeline is for our Mustang to arrive to Australia, we'll be counting the days.
Kind regards
Marj, Australia
2005 Corvette Convertible
Subject:  2005 Corvette purchase, 12/23/11
Gentlemen,
I'm writing to let you know that my 2005 Daytona Sunset Orange Corvette convertible is safely tucked away in her new home. The car is as gorgeous as the photos on your Web site showed, and while the car's almost perfect, I'm glad it's not…I'd NEVER drive it if it were!
Ben, the transport driver, arrived on time and took great care of the car while unloading it. I looked it over very thoroughly, and I suppose the biggest imperfection with the car is the coffee stain I was told beforehand about on the passenger side carpet and floor mat. That wasn't Cloud 9's problem, but Roy generously offered to buy new mats for the car…can't beat that!
As to dealing with Roy and Kevin, both were easy to work with, were straightforward in the information provided and were generally helpful throughout the process.
This car will take care of my Vette fix for a long while (hopefully), but rest assured, when I'm in the market in the future, Cloud 9 Classics' Web site will be the first one I check.
Thanks again for a great Christmas present,
Thom
Thom Harvey
Lucas, Ohio
2007 Indy 500 Pace Car Edition Corvette Convertible
Got my vette and just titled it today. My new tag is "INDY 486".
Also sold my Harley. It left on its way to Connecticut this morning.
Just wanted to let you guys know:
Xport guy was good
My vette is WOW
You guys are A+++
Get me that window sticker as Kevin, you stated in letter
and – Thanks! for the incredible job done by you both.
Sincerely,
Gary Shortt – Mechanicsville, VA
1965 Ford Mustang Fastback
"Awesome Fastback!" David – Simpsonville, SC
2005 Chevrolet SSR
"It was a pleasure doing business with you."  Glenn & Nora Holland and grandson Roy – Epworth, GA
2001 Plymouth Prowler
"Roy-Kevin, Could not be happier with Prowler. Buying experience with Cloud9Classics could not have been better. Delivery  service brokered by Roy thru Pacific Eastern -Constantin  could not have been more seamless. C9 Classics would be 1st stop in future when looking,  tho if you look at my garage an addition might be more timely. Good job Guys.
Steve Schimming – Stuart,Fl"
2004 Chevrolet SSR
I would like to "Thank You" for our recent purchase of the Chevy SSR. The SSR is just like a new one and we are very happy with it. Your professional and courteous service made this transaction very pleasant. We will stay in touch.
J. Powell – Greenville, SC
1966 GTO Convertible
Roy
I'm sorry I did not e-mail you sooner but I have been buried at work. The car arrived at 3:15 PM on Tuesday. That is the time of day most of our employees get off of work so there was a big audience. The car is as you described it and I put the top down and my wife and I went down the main street in Cedar Rapids just like we did 38 years ago. I can't thank you enough for communicating with me throughout our negotiations. If you everbneed a reference don't hesitate to give my name out and if I ever need a vehicle transported I will definitely give you a call.
Thanks
T Day – Iowa
2005 Toyota Landcruiser
"Thanks for the Land Cruiser.  My customer is very happy"  – G. Bell of Sexton Auto Sales – Raleigh, NC
1968 Firebird
"Getting this car was the best thing I ever did.  It brought my husband back to life.  He has done 2 car shows and we are learning.  She is a beautiful car!" – J. Kowallis of West Jordan, UT
1988 Mercedes 560SL
"The car was honestly described and everything is perfect.  The 20 year old car is in immaculate condition.  All the papers prove its originality.  The engine runs very smoothly and is a pleasure to listen to.  All the accessories were still in the trunk and was very carefully packed.  It was a pleasure dealing with you and I would buy blindly any other car from you"  – M. Zeischke – Bad Homburg, Germany
1968 Ford Mustang Convertible
"It's been a month since I purchased the car from you and I wanted to let you know how happy I am with the purchase.  Everything you told me about the car is correct and true.  You did not misrepresent the car what so ever….Just wanted to let you know how refreshing it is to deal with an honest person these days.  You went out of your way to secure a carrier and to make sure it arrived safely.  And for that you have my thanks.  You may now add me to your list of satisfied customer and if you need me as a reference, feel free to use my name." – D. Wright – Virginia
1963 Volkswagon Beetle
"I just wanted to thank you all your help with the V.W. transaction.  I'm sorry I was a little apprehensive at first, but Billy and I had never purchased anything so large on Ebay before and I was a little afraid.  You made everything go smoothly.  I wish Ebay allowed more space for feedback because there was so much we wanted to say but did not have room.  I'm sure you know we got the car Sunday night.  Billy was so excited we took the car for a spin around the neighborhood.  – Thanks for all your help."  M. C. – Maryland
1968 Pontiac Firebird Convertible
"I wanted to let you know that I put my Firebird in the Car show in Panama City.  A man from a magazine took pictures of me and the car.  I loved the attention it got especially sitting there by myself as the men came up to me asking why my husband walked off and left me to explain the car.  You should have seen their faces when I said it was MY CAR.  I won a trophy for top 25 in the show and there were a lot of cars with lots of time and money invested.  Every time I show it, I have to thank you.  Thanks again for the car." – Cyndy – Alabama
1967 Pontiac Firebird Convertible
"I got it and love it!  You are a true gentleman and if you ever need a testimonial to your character, please feel free to call on me." – M. Hagan – Gulf States, MS
1998 BMW Z3
"Got the car yesterday evening.  I am absolutely thrilled.  It looks great overall.  I had forgotten how much I liked my 97.  I had the car washed and waxed within one hour of the delivery, although it did not need it at all.  Thank you again."  – G. Barnett – Fort Worth, TX
Recent Ebay Testimonials
XLNT SELLER!Honest & xlnt communications. Shipped it too. Loving the car. Thank you Buyer: Member id pasha_music ( Feedback Score Of 121) Jul-22-10 18:43 BMW : M3 (#110553288159) US $24,000.00
Great transaction, very honest, car exactly as described, highly recommended!!!! Buyer: Member id annakinskywalker ( Feedback Score Of 11) Jun-13-10 07:02 Chevrolet : Corvette (#110544039402) US $11,300.00
Great car and an Excellent seller. Shipped it for me too! 1st class all the way+Buyer: Member id jjprimero ( Feedback Score Of 17) May-18-10 19:35 Chevrolet : Chevelle (#110518792780)US $27,000.00
communicatioon right away. he may help ship other purchases payment sentBuyer: Member id rickr7077 ( Feedback Score Of 38) Apr-22-10 14:35 Pontiac : Trans Am (#110520206365) US $19,600.00
WONDERFUL SELLER.THE CAR WAS EXACTLY AS DESCRIBED, AWESOME. I WOULD BUY FROM AGAIN Buyer: Member id gypsyrosesrj (Feedback Score Of 78) Apr-13-10 17:42 Pontiac : Trans Am (#110511216013)US $17,000.00
As advertised E X CE L L E N T Buyer: Member id rradinski ( Feedback Score Of 2704) Dec-24-09 10:48 Other Makes : AIV ROADSTER (#110468547230)US $35,600.00
Car was exactly as described. Seller was very freindly & professional. Buyer: Member id ppjc69 ( Feedback Score Of 1 ) Nov-24-09 05:43 Pontiac : Trans Am (#110453891467) US $17,400.00
Great representation of the vehicle. Can't put a price on peace of mind. Buyer: Member id 678couch ( Feedback Score Of 17)
Jun-03-09 07:30 Pontiac : GTO (#110393258062)US $36,995.00
Smooth transaction. Car was described perfectly. Roy was great to deal with. Buyer: Member id bilz058 ( Feedback Score Of 4 ) Jun-01-09 18:08 Volkswagen : Beetle – Classic (#110392516690) US $7,900.00
Great to deal with, car looks and drives as described. Love the new Bird. Buyer: Member id canesfan0_0 ( Feedback Score Of 25) May-07-09 03:26 Pontiac : Firebird (#110383269545) US $20,900.00
Excellent transaction and communication! We love our new hot rod! Buyer: Member id papathum22 ( Feedback Score Of 83) Apr-10-09 13:55 Pontiac : GTO (#110366742569) US $30,585.00
Highly reccomended ! A++ transaction! Great guy. Thanks Roy Buyer: Member id langx4london ( Feedback Score Of 251) Apr-04-09 06:26 Pontiac : Trans Am (#110366741888) US $17,999.00
Great car and very great man. Would buy from again. Thanks KathyBuyer: Member id pooh64 ( Feedback Score Of 152) Feb-16-09 14:38 Ford : Mustang (#110342151531) US $20,000.00