About This Vehicle
Mileage: 500
Engine: V8
Body Style: Truck
Transmission:  auto
Exterior Color: Silver
Interior Color: Black
VIN: 98RY482430
Price: SOLD
JAW DROPPING,

ONE OF A KIND

, CUSTOM 1950

FORD F-1

 HOT ROD SHOW STOPPER!!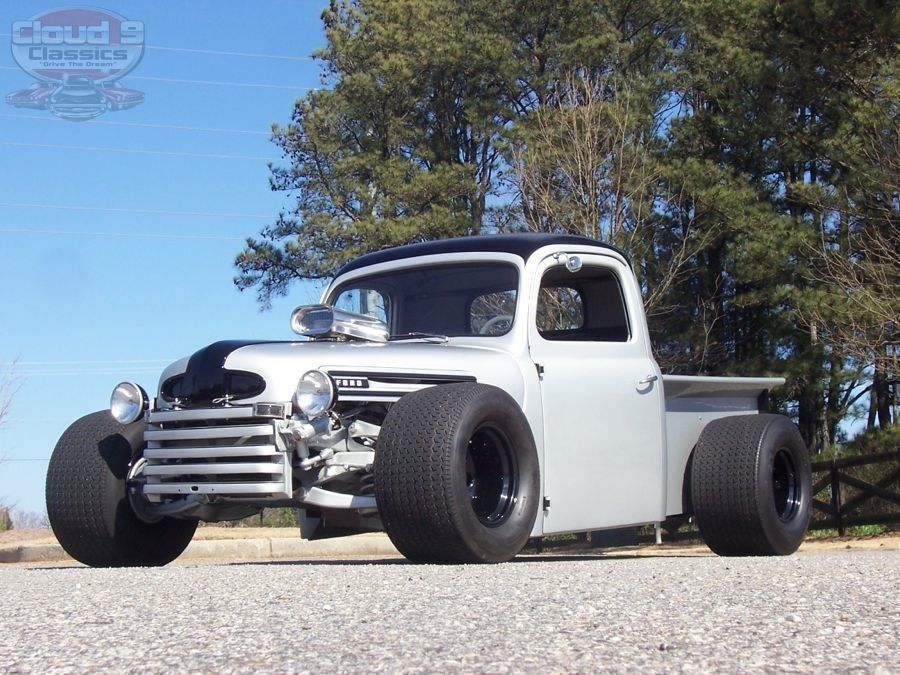 OVER 1000 HOURS OF FABRICATION AND CRAFTSMANSHIP PUT IN TO BUILD THIS SWEET, FRAME OFF RESTORED F-1!!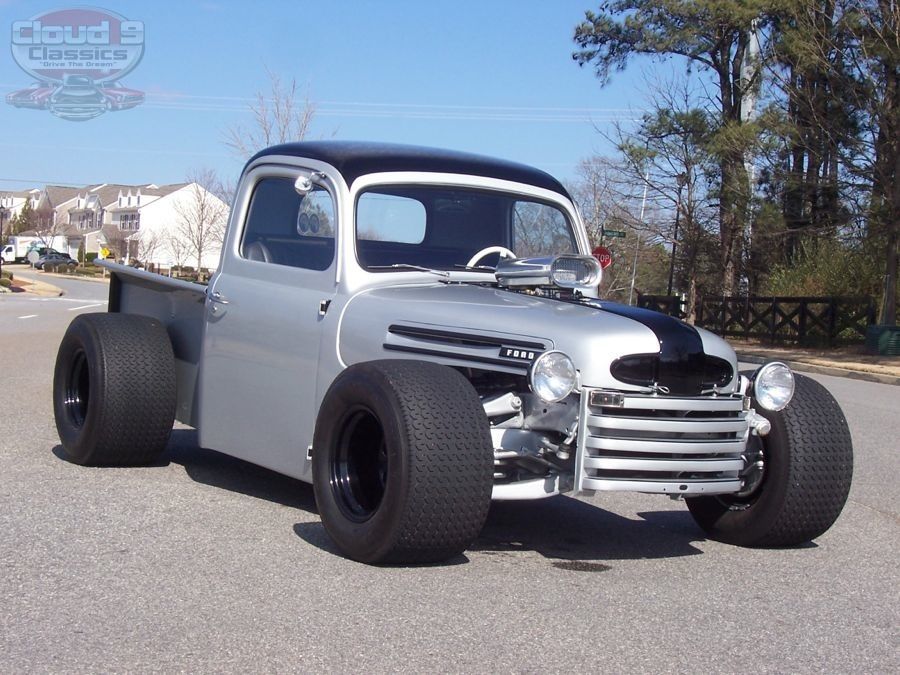 ARE YOU LOOKING FOR SOMETHING A LITTLE LESS TRADITIONAL THEN A STOCK RESTORATION? DO YOU LIKE CREATING A SCENE EVERYWHERE YOU GO AND DON'T MIND CROWDS OF PEOPLE HOVERING AROUND YOUR CAR AT THE SHOWS AND CRUISE-INS?  HAVE YOU LEARNED THAT IT IS MUCH CHEAPER TO BUY A CUSTOM BUILT HOT ROD THEN IT IS TO BUILD ONE? WELL, GET COMFORTABLE AND CLEAN OUT A SPACE IN THE GARAGE FOR THIS HOT ROD MASTERPIECE!!!  THIS 1950 F-1 MACHINE WAS COMPLETED IN THE SUMMER OF 2012 AND OVER 1000 LABOR HOURS WENT IN TO THE FABRICATION AND FRAME OFF RESTORATION.  THIS WAS THE 4TH AMAZING CAR I PURCHASED FROM A GREAT CAR GUY IN SOUTH CAROLINA. HE HAD BUILT THE FIRST 3 HIMSELF BUT THIS IS ONE HE ACTUALLY ACQUIRED AFTER IT HAD BEEN BUILT.  HE HAS A GREAT SENSE OF QUALITY AND STYLE AND THIS F-1 WAS NO EXCEPTION. SHORTLY AFTER HE PURCHASED IT HE WAS DEPLOYED ON A SPECIAL MISSION OVERSEAS.  WITH TOO MANY TOYS ALREADY AND BEING TAKEN AWAY FOR MONTHS  FROM HIS BUSINESS HERE IN THE U.S HE NEEDED TO FREE UP SOME MONEY AND ASKED IF I WAS INTERESTED IN PURCHASING IT.  ONE LOOK AND I HAD THE MONEY SENT AND THE TRUCK IN MY WAREHOUSE A FEW DAYS LATER.  THIS IS JUST AN AWESOME PIECE OF GARAGE ART THAT IS READY TO BE DRIVEN TO THE CARS SHOWS AND CRUISE-INS THIS SPRING AND SUMMER WHERE IT WILL SURELY WIN ITS SHARE OF TROPHIES ACCOLADES.  IT IS TRULY DIFFICULT TO DESCRIBE IT SO I WILL DO MY BEST TO PROVIDE ENOUGH PICTURES, A VIDEO OF IT RUNNING AND AN HONEST DESCRIPTION TO HELP YOU DECIDE IF THIS BABY BELONGS IN YOUR COLLECTION. SIT BACK AND ENJOY!!!
This Hot Rod truck is titled and registered as a 1950 Ford F100.  The cab is a rust free 1950 Ford F-1 that has been channeled to fit down over the custom 1965 Chevy truck frame that has been "Z'd" and painted to match.  This was a complete frame off restoration and done to a very high quality.  The Cab and truck bed area are absolutely beautiful and a show quality Silver and Black paint job was laid down last summer.  Front grill was custom done and modified. The hood was modified to accommodate the tunnel ram intake and a great black racing stripe was painted on giving it a very intimidating look.  The truck bed was completely hand built built with a beautiful wood deck that is hinged to open to gain access to the battery and fuel pump. The Kegger fuel tank is a great touch.  An absolutely amazing work of art was then applied to the roof of the cab. This is true ol' school styling!!! As you will see in the pics below it was given a special lace paint treatment that is truly breath taking and helps to further set this Hot Rod apart. The doors open and close easily and fit great. There are some very cool touches all around this masterpiece. From the taillights and dual exhaust panel to the frame and custom grille. Working turn signals and headlights. There is still some room for you to add your own touches if desired but it is complete the way it is.  The only flaws I noticed along the body were a few very small chips in the paint that were touched up. Otherwise it truly is in show condition and near flawless!!! Pictures speak louder then word on this one, so here is a walk around tour of the body: 
Inside this Bad A$$ ride you will find Hot Rod simplicity with just a few modern upgrades. Custom diamond plate floor and a super comfortable black bench seat. Black painted dash is nicely appointed with a great set of digital gauges to update you on all the vital readings and the Speedometer is a GPS unit from Speed Hut. Turn signal switches and headlight switch conveniently mounted on the dash.  The B&M shifter with 8-ball shift knob is right at your fingertips. While there are no wipers, horn, heat, or air conditioning, this F-1 does have an option that was not offered on these in 1950….Power windows!!!  The interior looks fantastic and is show ready!!! Take a peek inside:
This Ford F-1 is also Ford powered with a completely rebuilt 302 V-8 topped with a Weiand Tunnel Ram intake and dual Edelbrock 500 cfm  carbs. Holley fuel pump gets the fuel supply from the custom Keg fuel tank. gorgeous ceramic coated headers breathe through the Mandrel Bent 2 1/2 " pipes that rumble through the dual flow masters and out the custom rear panel. This Hot rod rumbles at idle and growls at acceleration as you can hear in the short video that follows the pics below. Front suspension is stock and rear suspension is custom with a great set of coil over rear shocks. Master brake cylinder, drums and pads are all basically brand new. I believe it has a c-6 automatic transmission and the B&M shifter allows you to simply drop it in drive and go or bump through the gears for some fun if you prefer. Rear end is nicely geared for all speeds. There is under 750 miles on this ride since completion so it has barely been broken in. As you can see you have plenty of rubber on the ground thanks to the 6-lug Black Steelies with bullet style center caps that are wrapped in Mickey Thompson rubber…31×18.5×15 in back and 29×15.5×15 up front. These tires are wide enough to sit on!! !Electric fans keep this truck running cool.  This is a very drivable show truck and rides very nicely but it is definitely no Cadillac and is not the kind of ride you drive long distance. Perfect to take to the local shows and cruise ins or run around town in if you can handle all the attention! And for a little more night time attention you can light up the ground beneath you thanks to the Blue Led lighting installed under the cab. Check out the engine bay and make sure you listen to the video that follows to hear how great it sounds!
INTERESTED TO HEAR HOW THIS HOT ROD SOUNDS???
TURN UP YOUR VOLUME AND CLICK THE ARROW TO WATCH A SHORT VIDEO OF THIS F-100 RUNNING: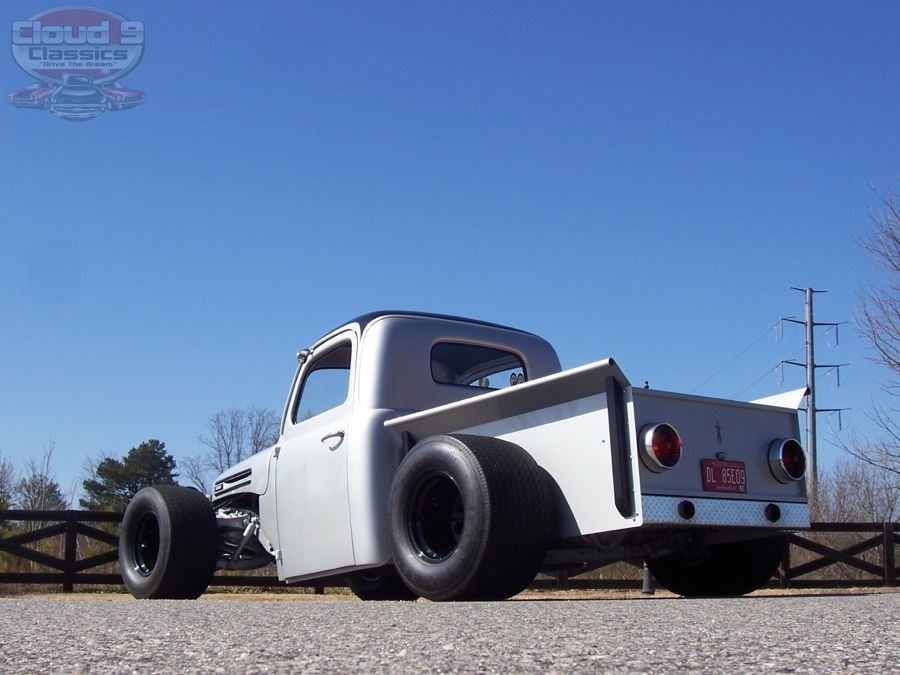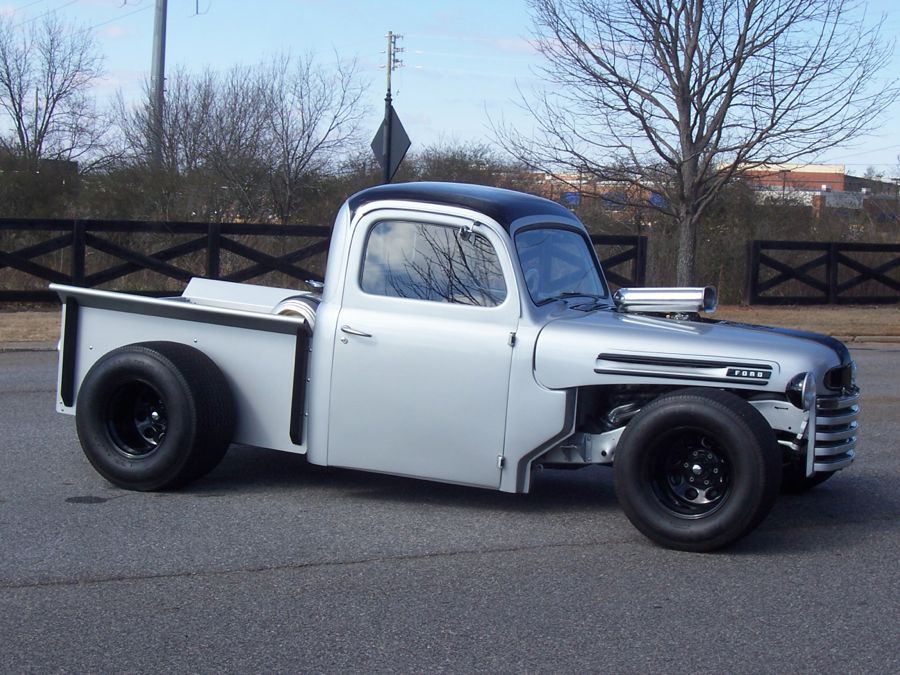 If you have any questions feel free to call me at 

770-359-8400 

and I will do my best to answer them.  If you are a serious buyer lets talk on the phone and discuss it. I will be happy to negotiate a deal so we can get this beautiful car in to your garage as soon as possible.  In addition to being a licensed Classic Car Dealer I am also a Transport Broker and will be happy to assist the buyer with a great rate on Enclosed or Open Transport anywhere in the US at the buyers expense or to any port for overseas buyers.