About This Vehicle
Odometer: 24,503
Engine: I – 6 cyl
Body Style: Truck
Transmission: Manual
Exterior Color: Aspen Grn
Interior Color: Camel
VIN: 6JP114070
Price: SOLD
ABSOLUTELY

BEAUTIFUL

,

VINTAGE LOOKING

,

FRAME-OFF RESTORED

, 1951 CHEVROLET 3100

5-WINDOW

PICK UP TRUCK….

CALIFORNIA TRUCK

READY TO

SHOW

AND

GO

!!!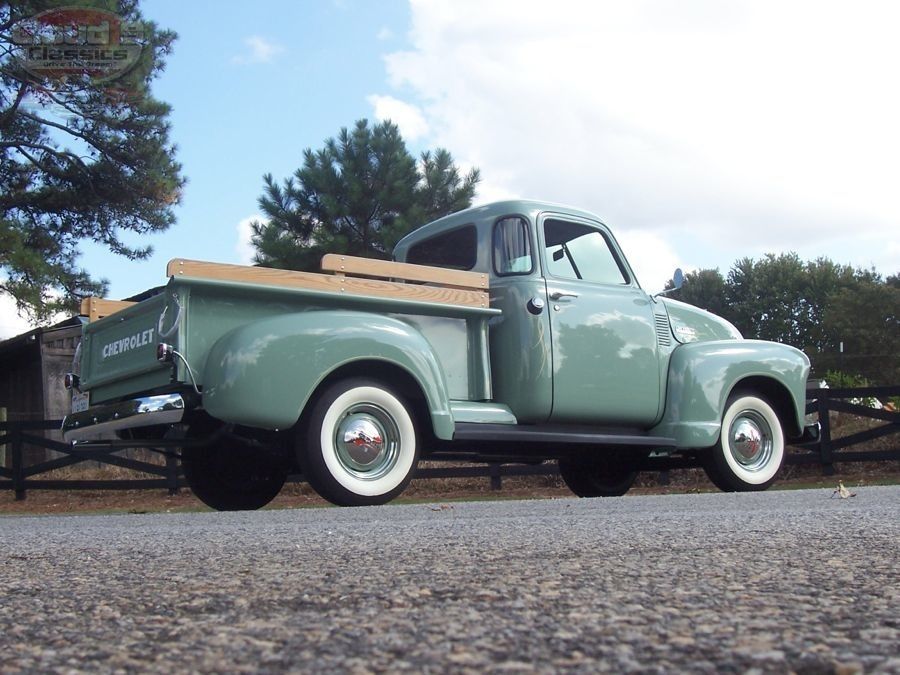 If you have been searching for a beautiful, professionally restored Early 1950's Chevrolet Pick up truck and want one that has not been modified like so many of the classic trucks on the market then this

Aspen Green

, 5-window '51 is might be the one you have been looking for!!!
This is truly one that stands heads and shoulders above most and is a turn key investment quality truck you can drive and enjoy!!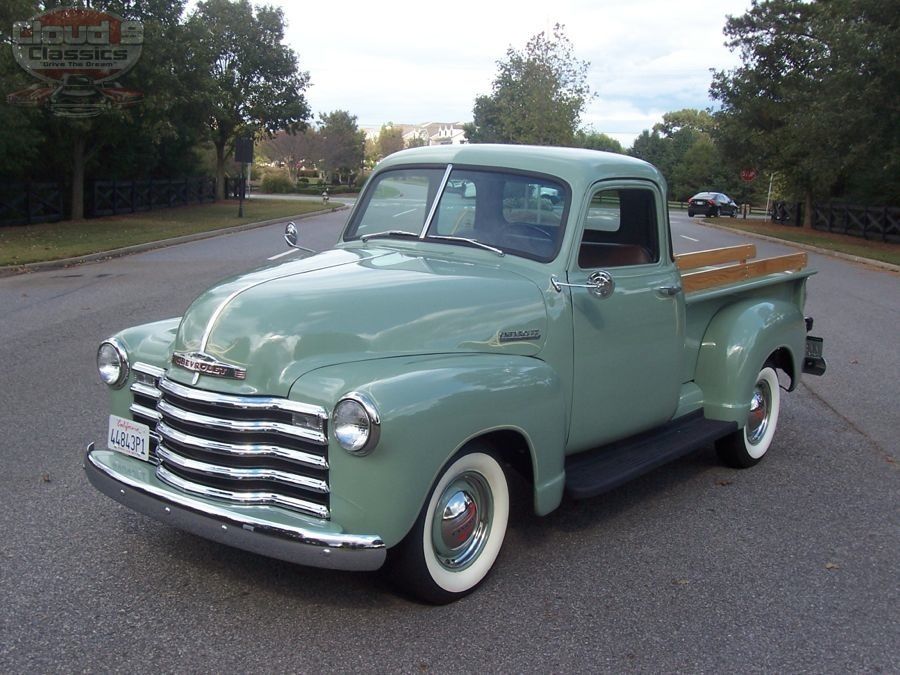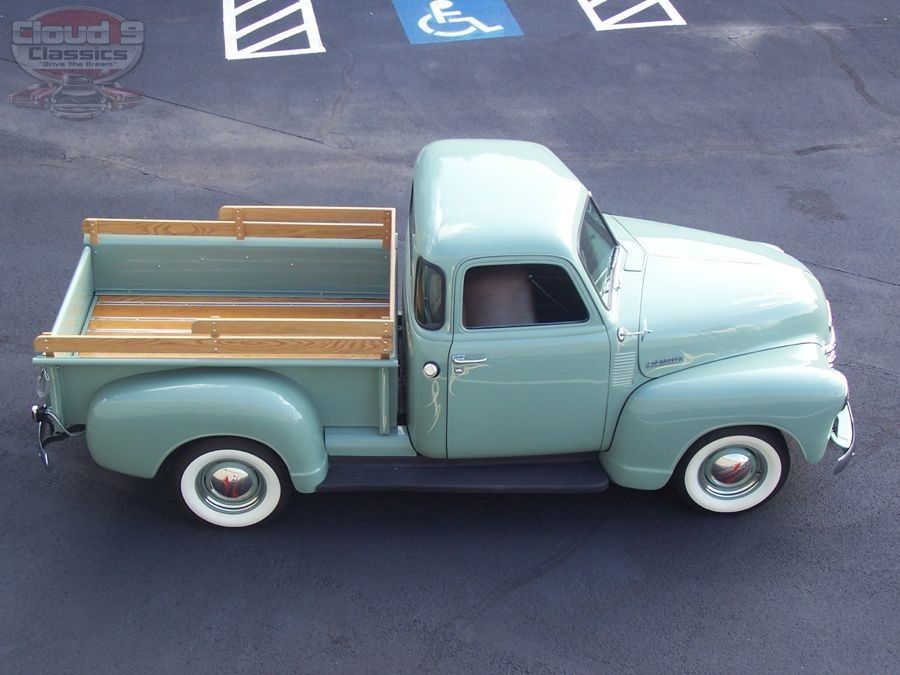 We recently acquired this beautiful '51 from a great guy in California who had purchased it from the Hot Rod and Custom shop that had done the frame off restoration.  He was thrilled with the truck and really did not need to do anything to it but he did add the custom white oak bed rails as he always like the look of these trucks with them on it. Unfortunately for him a few months after he bought the truck other obligations surfaced that caused him to let go of this awesome classic truck. Bummer for him but extremely lucky for the next owner….maybe you!!!!?? We have owned quite a few of the 1947-1957 Chevrolet Pick up trucks over the last few years. Most of them have been modified and while we love the updated, modified trucks there is something about one that retains the original, vintage, classic look and drivetrain.  While they are not trucks you are going to take on a long trip on todays highways they bring all of the smiles and thumbs up you can handle and are a blast to drive around town in or take to the local shows and cruise-ins.  I am sure the next lucky owner of this truck is going to throughly enjoy it!! I will do my best to provide enough large images, a video of it starting up and running, and an honest description to help you decide if this is the truck for you. This fall weather is ideal for driving around in these early classic trucks and this one is begging to be driven and enjoyed. Sit back and enjoy!!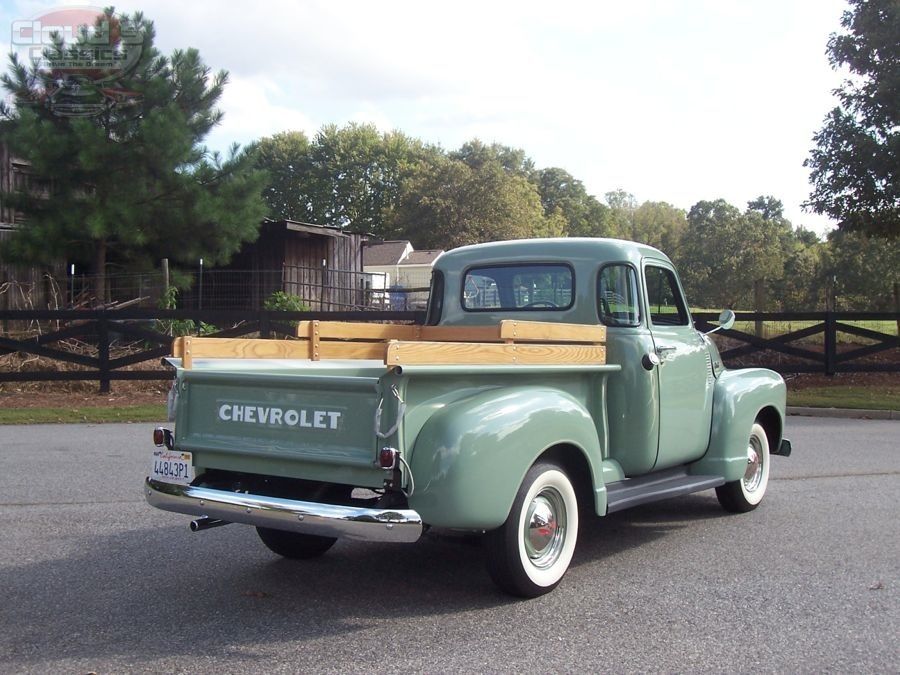 As I mentioned, this '51 received a very nice quality, frame off restoration by a professional Hot Rod and Custom shop in California.  They mentioned that the truck spent all of its life in Colorado and California and lived a very rust free life. The body was in fantastic condition prior to restoration and the glass was all removed and bed and cab were removed from the frame.  The result as you will see is a breath taking vintage original looking 5 window painted in the original Aspen Green color which really suits this truck perfectly. All new Green tinted glass was installed. All Chrome and trim was either polished out or replaced with new. Brand new custom oak wood bed with stainless strips and hardware were installed. The previous owner also added the custom white oak bed rails which add to the look and are a great spot for a business to add their logo if desired.  The paint job is a very high quality base coat/clear coat that was wet sanded and buffed for a beautiful finish. In one shot of the drivers side door you can get an idea of the great reflection the paint has. When the truck arrived to us it was beautiful but we love to have these Classic trucks treated to some great vintage pin striping from a grey guy locally. So, one call to Larry of Conways Customs and days later Larry layer out some great looking custom touches in a great chamois color which accents the Aspen green nicely.  Overall body fit is excellent…probably better then in 1951 as those of you who know these trucks know what I mean. I will not call the body flawless because I may have missed a couple of tiny rock chips or something but it is definitely close to flawless and will surely win its share of trophies at the shows if you enjoy that.  I think the color actually shows better in person then in the pics but I think the pictures that follow will give you an idea of how nice this truck is. Here is a walk around tour of the body:
Open the drivers side door and you will feel like you are back in the 50's at the local Chevy dealer looking at a new truck.  Extremely original inside with new door panels, bench seat, rubber floor mat, etc…The 4-speed shifter is original and I believe the steering wheel is also. Dash and gauges look great and are all working. Dash, doors and the rest of the cab were painted int he correct colors and look great. Glass is all like new and is tinted green. Windows roll up and down nicely. No radio and the dash was never cut. Easy to add an aftermarket stereo in the glove box or under the dash if desired. All new wiring harness was professionally installed and this truck has a 12V electrical system with restored and working 12V lights and gauges. The interior is basically in show condition with just a touch of patina. Have a look:
Under the hood is a very strong, great running 235 6 cylinder.  I do not know much about the motor other then it was gone through at the time of restoration and was believed to have been rebuilt prior to restoration last year.  When we received the truck it needed a valve job which we did and the carburetor was leaking slightly so a new,  rebuilt, correct carburetor was installed along with new spark plugs and  fuel lines. This '51 is running fantastic now!  The 4-speed shifts very nicely and had a new clutch installed at time of restoration. 1st gear is a granny gear.  This truck still has a stock rear end so while it runs and drives great it is not a truck you want to try to drive long distances at todays highway speeds. Don't get me wrong, you could drive cross country in this truck at 45-50 mph if desired but these were not built to be driven 70 mph for long distances.  If desired you could swap out the gears in the rear end and set it up for higher speed driving without too much trouble or expense. While the cab was off the frame was steam cleaned and painted so it is very presentable but was not done to be a trailer queen. It was restored to be driven and enjoyed! This truck also stops great thanks to all new brakes.  The truck handles the road very nicely and anything that needed to be replaced was done. New shocks front and rear and new rear leaf springs.   As you have probably noticed this '51 rides on a great looking set of Wide Whitewall tires from Coker Classics. Less then 500 miles on this truck since it was restored! You can crank this truck up and drive it the day it arrives to you. It will run nice and cool and you can leave it sitting idling without it getting too hot and this truck has great oil pressure. Great time of year to take this truck out for a ride through the mountains, to your kids sports events, or to the local shows and cruise-ins.  Have a look and then listen to it start up and running in the video that follows: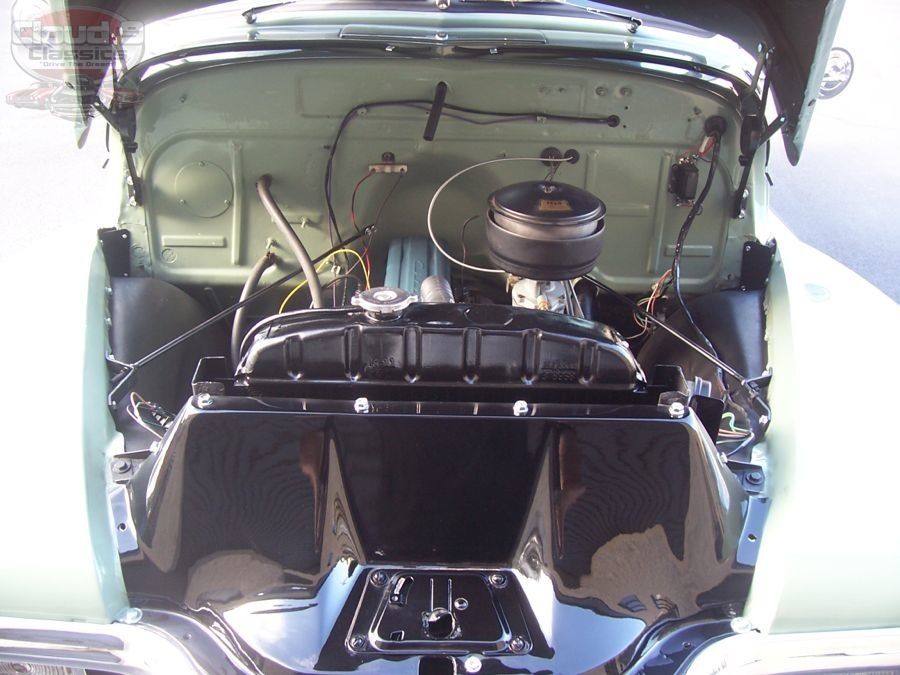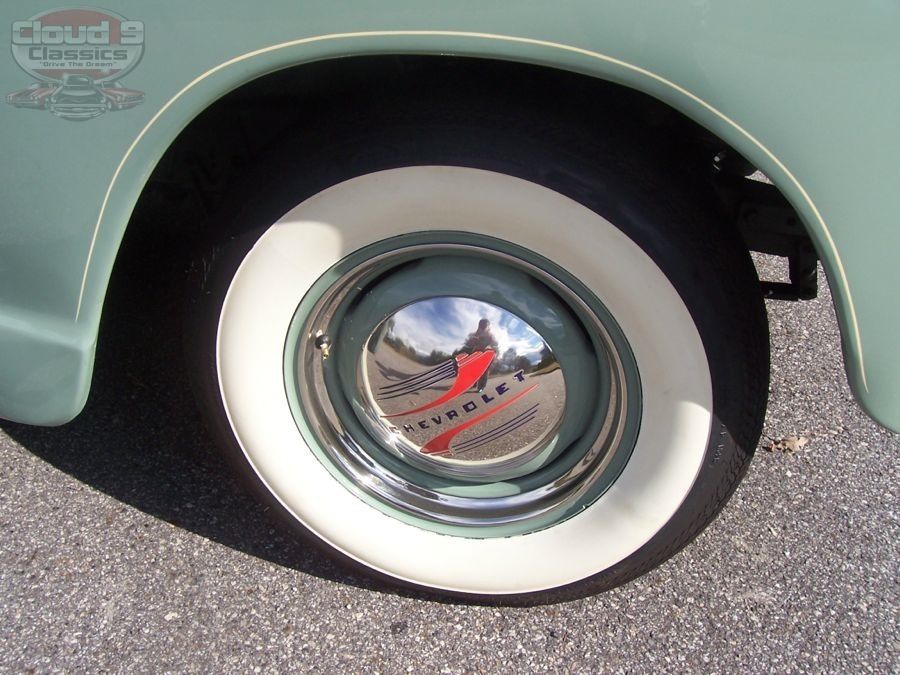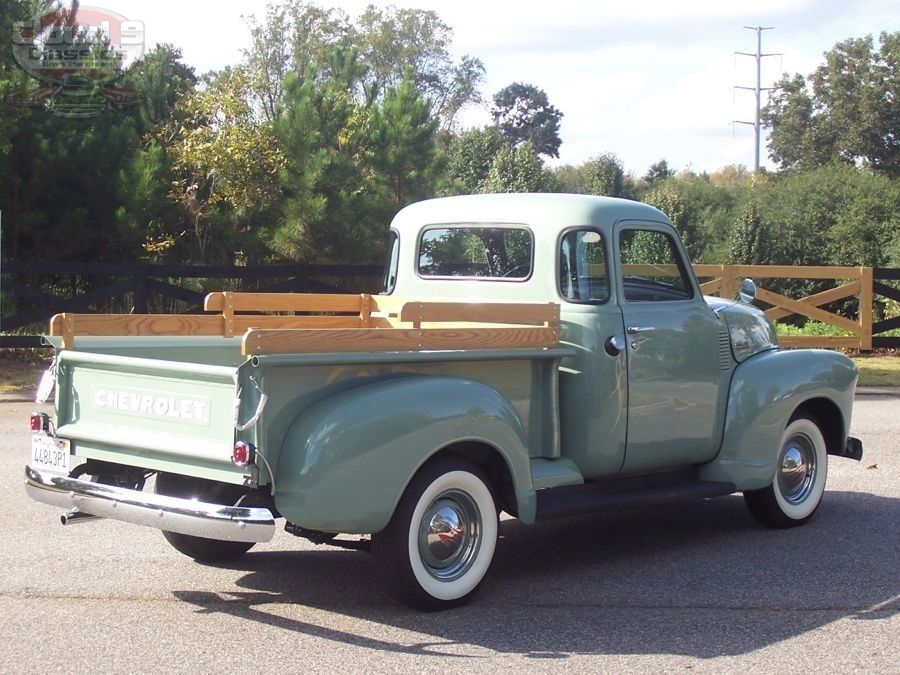 HERE IS A

SHORT VIDEO

SO YOU CAN HEAR THIS '51 5 WINDOW START UP AND RUNNING….CLICK THE ARROW TO START:
Hopefully you can see from the pics and video that this is truly a sweetheart of a truck that was professionally restored to a level that it can be driven and enjoyed and will win at the shows if desired. It is definitely a shrewd investment and the savvy buyer will call me to make sure they scoop it up before the next car guy or gal grabs it. 
Serious buyers can call me at 770-359-8400
.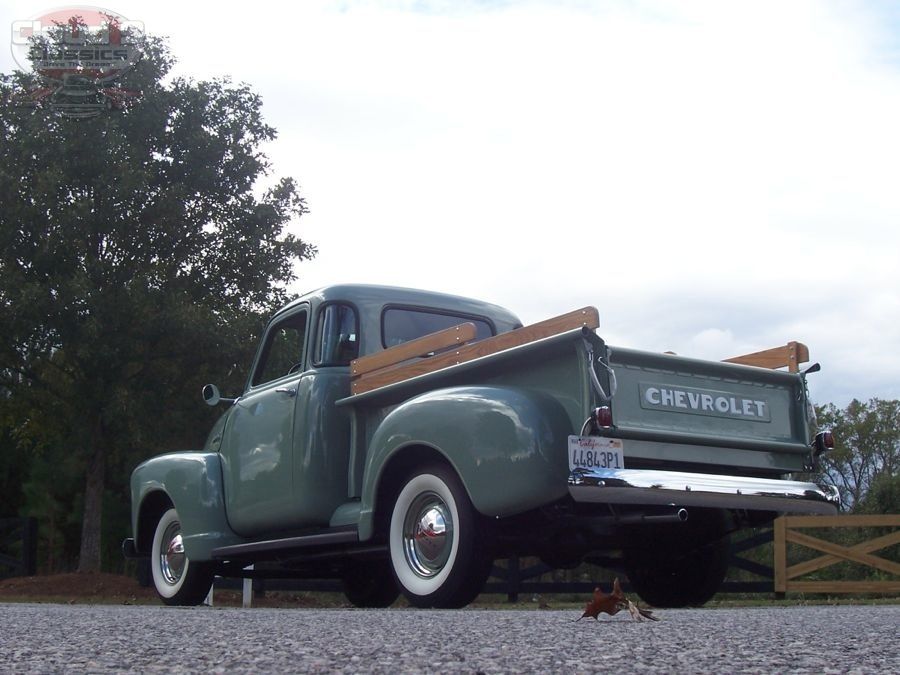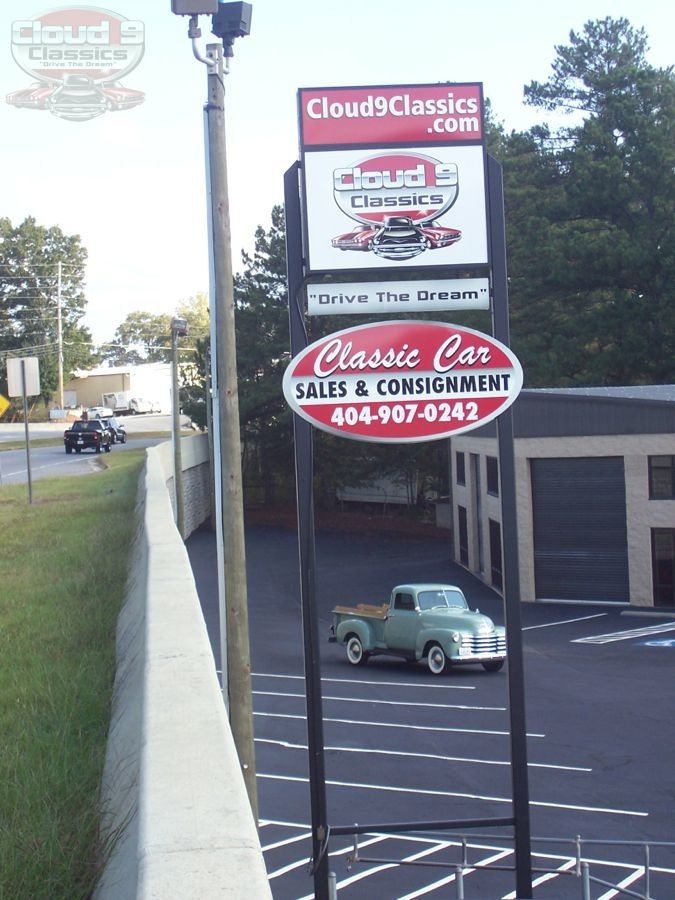 If you have any questions feel free to call me at 

770-359-8400 

and I will do my best to answer them.  If you are a serious buyer lets talk on the phone and discuss it. I will be happy to negotiate a deal so we can get this beautiful truck in to your garage as soon as possible.  In addition to being a licensed Classic Car Dealer I am also a Transport Broker and will be happy to assist the buyer with a great rate on Enclosed or Open Transport anywhere in the US at the buyers expense or to any port for overseas buyers.