About This Vehicle
Mileage: 10,600
Engine: 289
Body Style: Convertible
Transmission: Manual
Exterior Color: Tahoe Turquoise
Interior Color: Pony
VIN: 6R08C193282
Price: SOLD
BEAUTIFUL 

TAHOE TURQUOISE

1966 FORD MUSTANG CONVERTIBLE, 4-SPEED, C-CODE WITH MATCHING DELUXE

PONY INTERIOR

, NICELY UPGRADED WITH GT OPTIONS!! READY TO SHOW

OR

GO!!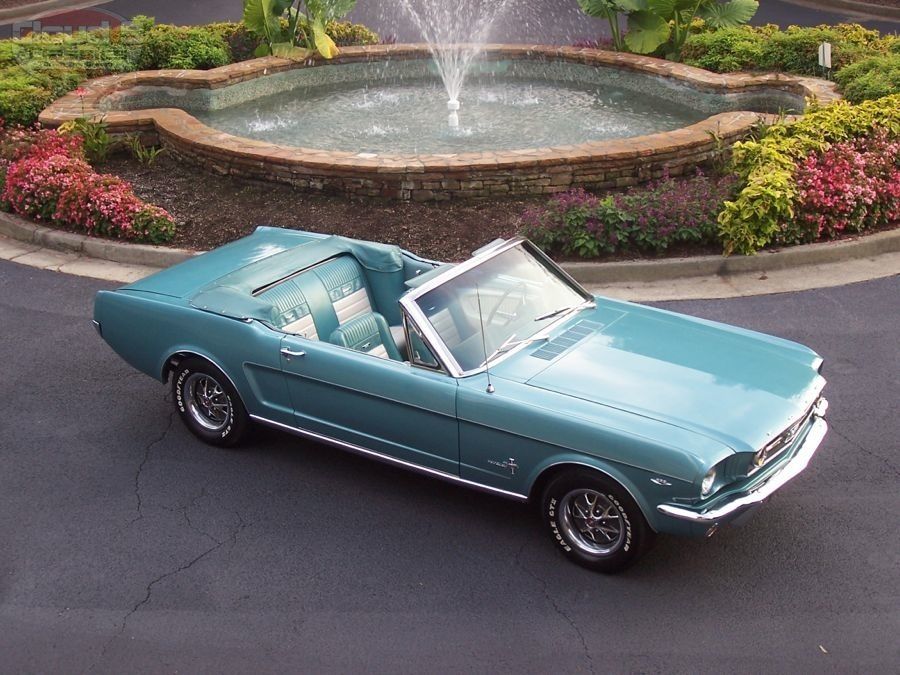 HAVE YOU BEEN SEARCHING FOR A NICELY RESTORED CLASSIC MUSTANG CONVERTIBLE THAT YOU CAN DRIVE AND ENJOY, AS WELL AS TAKE TO THE LOCAL CAR SHOWS AND CRUISE-INS?
WOULD YOU LOVE IT IF YOU COULD FIND AN

ORIGINAL 4-SPEED

CAR?
WOULD IT BE EVEN NICER IF IT WAS

UPGRADED WITH GT STYLED OPTIONS

LIKE DUAL TRUMPET EXHAUST AND GT FOG LIGHTS?
DO YOU WANT SOMETHING OTHER THEN RED, WHITE OR BLACK??
IF YOU HAVE BEEN NODDING YOUR HEAD AND ANSWERING YES THEN GET READY BECAUSE

THIS TAHOE TURQUOISE STALLION COULD BE THE ONE YOU HAVE BEEN SEARCHING FOR

!!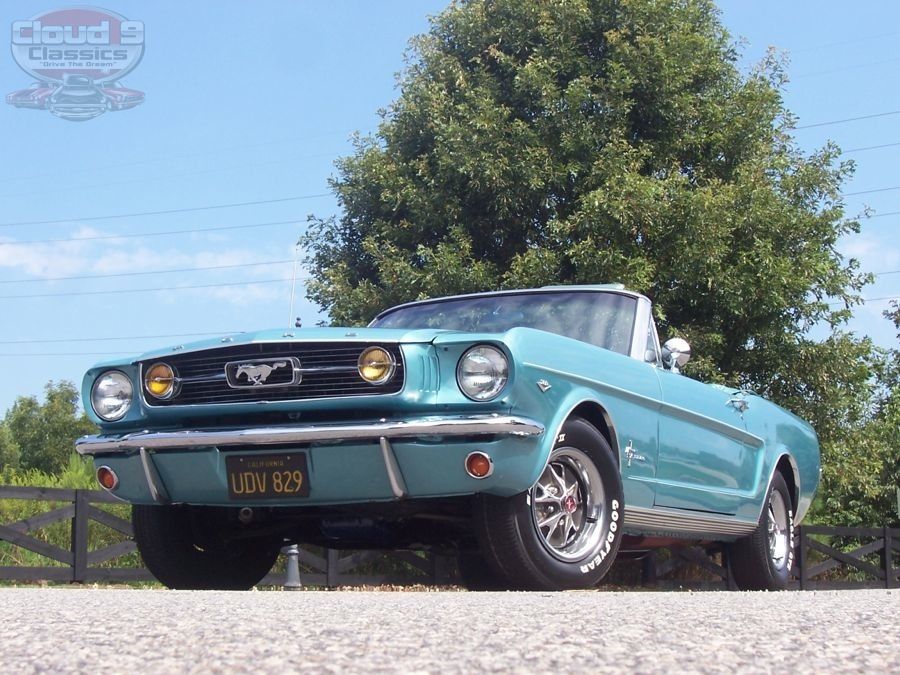 THIS TIME OF YEAR IS PERHAPS THE BEST TIME TO ENJOY A CLASSIC MUSTANG CONVERTIBLE…
This Tahoe Turquoise 1966 Convertible was a San Jose, California production car that spent a good portion of its life in sunny, dry, California before it was purchased by a Mustang Enthusiast in Oklahoma. According to what we were told this individual owned the car since 1985 and did a very nice cosmetic restoration on a rust free car about 10-12 years ago and more recently had the entire drivetrain rebuilt, and nicely upgraded. It was basically used as a sunny day cruiser and driven to the local car shows and cruise-ins. About a month ago it was purchased by another Mustang Enthusiast in Oklahoma who thought he would surprise his wife with it so she would have her own classic to take to the local shows. He thought she would enjoy the 4-speed, however, after driving the car for a few weeks she told him she really wanted an automatic. Not so great for him , but awesome for the next lucky owner…maybe you! As you will see this Pony still looks beautiful and is one of my favorite color combinations with the matching Pony Interior.  This car is just as it left the factory in its original color combination. It was an original Luxury Interior ( code 76B ), C-code 289 V8 Automatic car in the colors you see it today. At the time of restoration a few great GT Options were added including the dual trumpet exhaust and fog lights. When the motor was rebuilt it was also upgraded to a 4bbl which adds a few more ponies. If you have been searching for a beautiful Classic Pony Convertible to drive and enjoy and perhaps take to the local shows and cruise-ins then this may be the one!!  I drove the car quite a bit last week in the 85 degree, sunny Atlanta weather and it performed beautifully and received tons of looks and thumbs up from every one who saw it.  I will do my best to provide enough pictures, a couple of videos and an honest description so you can determine if this Tahoe Turquoise stallion belongs in your stable this fall. Sit back and enjoy!!
The body on this '66 Convertible is in beautiful condition.  The restoration that was done approximately 10 years ago has held up very nicely and this car certainly draws attention wherever it is driven.  Paint quality is very nice and we recently had it professionally wet sanded and buffed so it is ready to go the day it hits your driveway. The body panels appear to all be original and the car is very straight with excellent body panel gaps. Doors open and close with ease. A very nice white accent pin stripe was added which adds a nice touch.   Chrome, bumpers and trim all look fantastic. At the time of restoration a GT style rear valence was added which features the great sounding dual trumpet exhaust. GT style front fog lights were added to the front grill and look great. You will see the original  California Black Plate still mounted on the from valence. Windows all roll up and down nicely and seal up well to the convertible top. There is a small rock chip down low on the drivers side windshield and a small hairline crack has started there that does not extend up more then a couple of inches from the base of the windshield. There may be a few tiny rock chips that have been touched up but otherwise the body looks extremely nice! It is not a concours restoration but it is an extremely nice, very original, Pony convertible in an absolutely stunning color and will surely win its share of trophies at the local shows.  This is a classic that you can get in , drive, and enjoy while it continues to appreciate in value. Here is a walk around photo tour of the body and that the end of the listing is a video walk around tour. 
I always recommend dropping the top on these awesome classic convertibles as much as possible but of course it is nice to know that the white convertible top on this car is in fantastic condition and basically appears to be close to brand new.  It is a manual top that operates quickly and smoothly and latches down easily. The rear window is crystal clear. The turquoise boot cover snaps on easily when the top is down.  Here is a look:
Complimenting the beautiful exterior is the Luxury two-tone Pony Interior in the Aqua and white combination.  The interior is also in amazing condition and looks close to new. Door panels are in excellent shape with a very minor crack on the drivers side near the door handle.  The matching carpeting looks brand new and a brand new set of matching Pony floor mats were just added. Dash pad looks great with no cracks or damage.  Of course the Luxury interior cars have the woodgrain looking dash and glove box that look very nice. Woodgrain looking steering wheel is in great shape and does not have any separations that are so common in these.  Gauges are all working and are very clear and easy to read. Center console looks excellent and the original T-handle 4-speed shifter works great. This was a Factory Air conditioned car originally however the A/C unit is not currently wired so we do not know if it is working or not and the compressor is not currently on the car but these can be upgraded with the newer style compressors and set up to blow nice and cold if desired. Nice upgraded chrome rocker panel trim inserts add a very nice touch when you open the doors of this pony. Courtesy lights in the deluxe Pony doors work as they should. Overall, as you will see, the interior looks fantastic and is definitely show ready!
Powering this beautiful stallion is the original C-code 289 V8  that was upgraded to a 4V Carburetor. The odometer reads a little over 10,000 miles and we believe the car itself has slightly over 110,000 original miles. We were told that the motor and transmission were both completely rebuilt about 20,000 miles ago by the gentleman who owned the car since 1985. The motor pulls very strong and is mated to the original top loader 4-speed which shifts very smoothly. The clutch assembly was also replaced recently.  The 289 breathes out of the stock manifolds in to a very nice sounding dual exhaust that exits GT style through the dual trumpets out the rear valence.  Handling is a breeze thanks to the upgraded Unisteer Rack and pinion steering assembly that was added!!! Manual drum brakes stop great and were also completely gone through.  Front and rear suspension have also been redone. I put on about 80 miles last week at local and highway speeds and this Pony was a joy to drive!!! The original styled steel wheels are wrapped in a nice set of Goodyear White Letter Radial tires that have tons of tread life left. Original points were changed to a Pertronix electronic ignition for easy starts. The motor has been nicely detailed under the hood  and you will notice a very nice set of vintage finned valve covers. This 4-speed Stallion is an absolute blast to drive!! I have added a video below so you can hear her start up and run. 
HERE IS A SHORT VIDEO SO YOU CAN HEAR IT START UP AND RUNNING:

( CLICK ON THE ARROW )
HERE IS A FINAL WALK AROUND VIDEO OF THIS GORGEOUS STALLION!

( CLICK ARROW )